And Company
295 Enfield Place, Mississauga, ON, L5B3J4
---
And Company Info
Life is about the interaction between you, your circle and your environment. &Company Resto Bar, steps away from the Square One Shopping Center in Mississauga, is the local hotspot for you to feed your social appetite. Boasting a beautiful and sunny outdoor patio, this is the perfect spot to relax with friends. By day, Executive Chef Ron Stratton offers a contemporary twist on classic ...
Hours
Wednesday - Saturday, 4pm - 2am
Dress Code
Stylish (no baggy jeans, athletic shoes, timberlands and sportswear)
Music
Top 40, Hip Hop, R&B, Latin
Layout
2 rooms, 2 floors, heated patio, 700 person capacity
---
And Company Events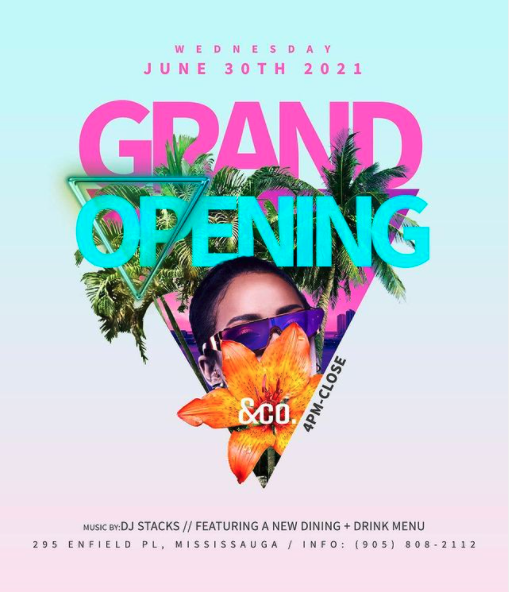 Sun, Wed, Thu, Fri, Sat @ And Company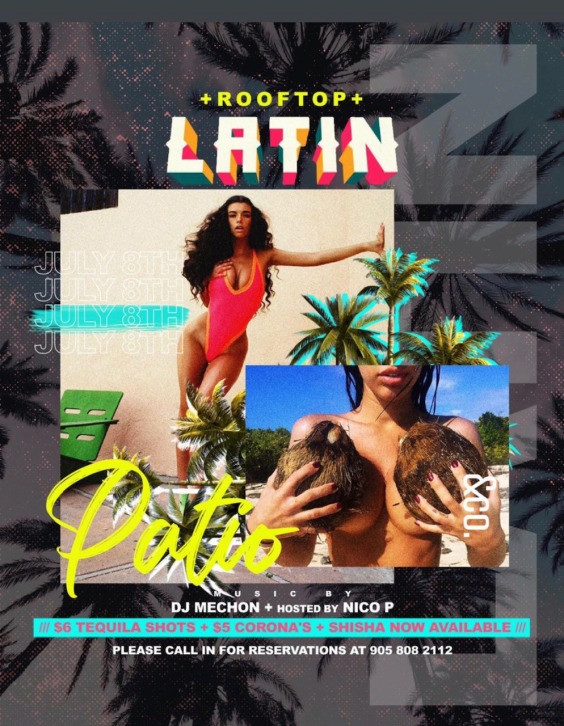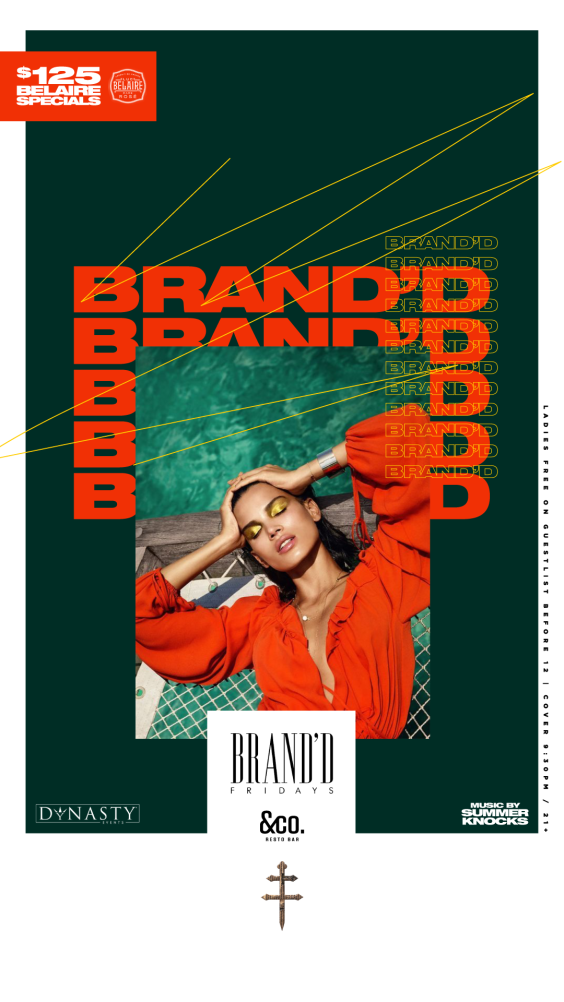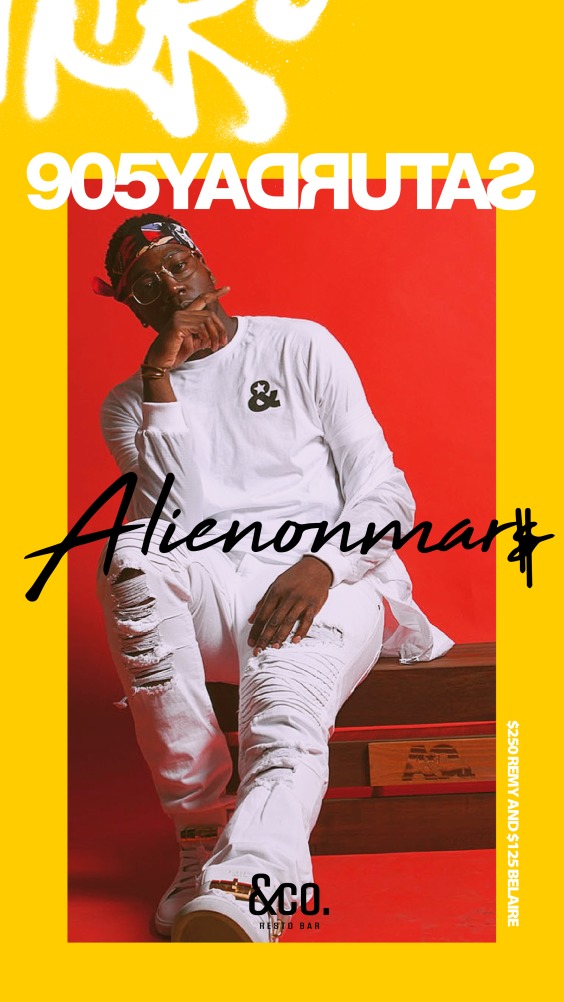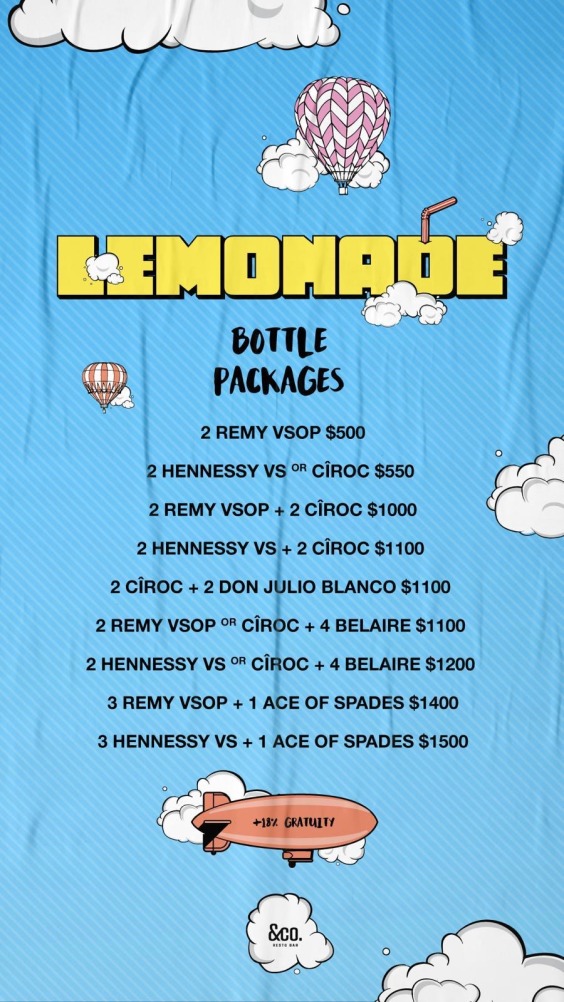 And Company Reviews
Only thing good was their chicken waffles
submitted by An upset attendee for And Company on July 29, 2019
They get 0stars ! Service is horrible right from the jump! Such a cold atmosphere the staff have no interest in servicing their guest! Okay, i'm generalizing out of all the employees my friends and i encountered maybe 3 were very friendly towards us. There had been a rooftop patio event that they hold on sunday's and i had been in contact with an employee via their instagram page who said ladies on guest list are free before 5! Upon arrival at 4:42 we were told to pay 5 dollars each! We were puzzled i mentioned the fact that i had spoken to someone and that that piece wasn't mentioned ! When insiddde the establishment i messaged the instagram account again just for someone to send me a flyer that hadn't been on their page nor on clubcrawlers that says there's a 5 dollar charge.... Thats not even it! The bartenders have no manners and lack respect we asked for drinks and the bartender said cash only we asked if there were any debit machines he said no .... Okay ... So he couldnt have said we don't accept cash at the bar however if you find a server you'll be able to order drinks through them and they have a debit machine. Lol honestly this place is just tacky, run down and is in need for some serious renovations and honestly i'd have to say start with your staff and change your name cause theirs no way in hell i'll be back at this venue- bad company
Lost my ring at Christmas
submitted by TJ for And Company on October 26, 2017
I attended my work christmas party at this place and in the bathroom i lost my wedding ring. I asked the manager if he can please announce it on the mike if anyone found it to return it to me. He said no it's against policy. How harmful could it be to just make 1 announcement, i was really upset. I started going around pleading with everyone to return it if they saw it. I never got my ring back. Very disappointed that the staff did not help me to find my wedding ring. It may or may not be found, but i will never know.
Tj
Horrible Staff. Avoid This Place.
submitted by Sarah for And Company on June 25, 2016
I'm not one to take the time to complain and write reviews about businesses. However, the staff was so horrible that i have to warn other potential patrons.

I tried to find out if we were in the correct line for ticket holders. The first bouncer seemed clueless, and the second bouncer rudely told us that there was only one door. Then he said he was going to check something, but all he did was go over to his coworker, call me a bitch, and tell him how we were trying to sneak in the back door.

Major attitude problems here. Not just the standard i'm bored and don't like my job attitude, but blatantly and aggressively rude.

I've never had anyone stamp my hand so aggressively. Sounds stupid/ petty but everyone (except the woman taking tickets) was incredibly rude, careless, unhelpful, and unwelcoming. I've had crappy jobs before that involve customer service so i know how annoying it can be. But not one person on the staff even greeted us. They barely looked at us.

The absolute worst club experience i've ever had in my life. Never going back. I'll be making sure all of my club going friends know not to go to this place.
WORST STAFF AND MANAGEMENT. IF YOU WANT A GOOD NIGHT STAY AWAY FROM THERE
submitted by Fuk And Co for And Company on June 2, 2016
I never write reviews but just felt compelled to write one after the worst treatment i had yesterday. My friends and i arrive at 1am, ask the so-called manager if we can get in and also buy a bottle. He says that we still need to buy cover even if we get a bottle (really? I go clubbing all the time and this never happens). So we decide to just buy cover and tell him so. But no, now the club is full (meanwhile 10-11people are leaving) and we cant go in unless we buy a bottle.... Wtf? After making us wait 15 minutes outside, finally lets us in and says that its okay, we can just buy cover (and lets my two lady friend in without issue, which is understandable) . We go in, the atm machine doesnt work. Then im being pushed around by the bouncer to go use the one upstairs. At this point, i lost it and told him i dont wanna go in anymore. They are just complete assholes. Seriously, what a joke. I'm gonna do anything in my power to tell my friends to avoid this so-called club. i'm giving it zero stars.
Lost my wallet and believe it was stolen
submitted by Peter for And Company on May 27, 2016
On wednesday, after the security check i took cash out from the wallet to buy drinks and i think the wallet was stolen. Anyone else have a similar incident happen to them?
Don't waste your time
submitted by Boots for And Company on April 29, 2016
Worst place ever. Mature crowd? Half the "ladies" in the place look like they used fake id's to get in. I used the term ladies in quotations cuz i don't know if it's mississauga or what, but all the ladies look like dudes and are mammoth, with so much make up, fake tans & all dressed the same. Skank with a side of trashy...And not an iota of class.
The staff is rude, bouncers power trip. Honestly, don't waste your time if you're looking for a mature crowd. Seems that fellow millennials are still living out their high school days, sadly. Much better clubs, would rather go to bss which is a total dive!
Event Planner
submitted by Anna Khan for And Company on December 2, 2015
I went to the & company for a corporate christmas party. This was probably the worst christmas party that i have ever been to.
When i walked in there were people crowding the front door and i couldn't even find the sign in desk. After coat check in, i went to the bar to get a drink. After the bartender by-passed me to serve 4 other people who approached the bar after me i finally was able to order a glass of wine that cost $12.00. I gave the bartender a $50.00, he then started to serve other people behind me thinking that i was going to walk away without my change. I stood there for 2 minutes until finally yelling out 'hey' to him and he finally brought my change to me looking p-ed.
After it seemed like everyone arrived we found a table and 'dinner' was served. Two types of bare salad with a few topping and dressings offered, alfredo penne and baked chicken. The portions were small and you needed to 'create' your own salad with tiny spoons that couldn't even pick up anything. The servers tried to rush everyone by literally saying 'just take some and keep the line moving'. Out of curiosity i stopped to ask a server if they have any vegetarian options and she said that 'all we have is salad then'.
After the dinner service, the waiters began to pick up all the plates and cutlery from the tables, i asked one of the guys working if there was a dessert table, he looked at me and shook his head with 'no'.
That was enough for me to leave, i went to the coat-check to get my coat and the ladies working there seemed to have misplaced my coat. When i finally noticed my coat it was on the floor which i had to point out to them.
I'm not one to write reviews online but i had to with this. Would definitely not recommend this place rude service.
DONT WASTE YOUR TIME
submitted by Riley for And Company on November 12, 2015
Worst night club ever. Rude staff, unattractive staff. It smells like a combination of piss and b.O . No thanks

I would give this place a zero rating
jane uppton
submitted by jane for And Company on November 5, 2015
This place is shit, and the staff are shit including upper management.
The staff is terrible
submitted by Alex for And Company on January 18, 2015
On the guestlist paying $500 in bottle service, walk up and bouncers decide to pick on one of our girls who was laughing at a friends joke saying she was too drunk to get in and needed to wait 15 minutes. They embarrassed the poor girl for absolutely no reason. Once she "sobered" up in these magical 15 minutes, we got in. Music was okay. Crowd was dead. Says mature crowd but lots of 19 year olds were around. Expensive bottle service and not worth it at all. Place has a stuck up vibe. If i could give no stars, i would.
NOT IMPRESSED
submitted by Denise for And Company on October 1, 2014
I went to and co, on wednesday night, the worst staff i have ever encountered. Rude, money hungry, and stuck up. My friends and i went to go celebrate a birthday, while patiently waiting for a drink at the bar, we tipped the bartender and she looked at a 8 dollar tip like we had wasted her time. After still encountering this rude behavior she goes to another bartender to say how cheap we were and while laughing and giving us dirty looks. To the person who operates or owns and co, you should be informed on how your staff treats its customers. From the point of arrival, security was extremely friendly, front door girl greeted us as we felt welcomed. It all went to hell at the bar. So after this experience we decided to move to another bar, and the girls are all the same. Will never go back, service sucks, staff sucks, and music is ok. I give and co another year . Im rating this club 0 out of 5
Front for drugs
submitted by Robo for And Company on April 30, 2014
Dealers here - usually in the booths
Wednesdays
submitted by Kendral for And Company on March 18, 2014
This place is pure garbage. don't wast your time here.
WORST CLUB/LOUNGE EVER!
submitted by Ralphio for And Company on October 5, 2013
I usually go clubbing downtown, but because many of my friends now live in mississauga, we decided to go to &co for my birthday. I had planned it for a friday night.

4 days before the party (monday): i called at 8pm and made a guestlist for me and my friends. The employee said okay. They confirmed we were on the guestlist, told me to give my name when i got there, and they would let us in.

2 days before the party (wednesday): we had a few more people, so my friend called in to make a reservation under his name. The waitress confirmed again, saying that we were added to the guestlist.

The day of the party (friday): my friend told me about her shitty experience at &co when they didn't let her in, even though she had made a guestlist! So i decided to call in a few hours ahead and confirm i was on the guestlist. The lady on the phone said "yes".

So we drove from oakville. Some of my friends came from toronto, some having taken the bus/public transit to get there (2+ hours travel). We walked up to an empty line, where people were just hanging out in front, smoking. I gave the bouncer my name. He glanced at the list for a few milliseconds before saying "sorry, you're not on the list". So my friend gave his name for the second reservation we made. He glanced at this list for another few milliseconds and said "sorry, he's not on the list either". What the heck? How do you lose two different names collected by two different waitresses on two different days? If it was the same waitress who simultaneously messed up two names, then i would believe that. But this was just uncomprehendable. We had 60:40 female:male ratio, so that shouldn't have been a problem. They just decided it was okay to waste mine and my friends' time and travel and ruin my 24th birthday.

I wasted so much time planning the perfect birthday night out, made the proper reservations twice, came on time, and 2 stupid bouncers and one shitty club decide to ruin my birthday night! I will never be going to &co ever again, and i would advise anyone against doing so. Go to a club downtown, where the bouncers are more professional and you're more likely to have a great time. I have never got turned down from any club in the gta as long as i was on the guestlist - this was a first.

I seriously hope &co goes out of business so we can have something better come up.

Oh, and did i mention their food is shit too? Went there for dinner a month ago and their menu has very few items, all over-priced, and the quantity is sh*t!
Disappointing
submitted by Erica for And Company on October 1, 2013
I was not pleased with how my friends and i were treated. My friend and i had put our names on guestlist about a week prior to the event date. While at the line up, the bouncer had claimed that our names were no where to be found, which i had later on discovered was a lie because some of my friends were able to get in under my name later on. Our group's guy/girl ratio was majority girls so we didn't understand what the problem was. We even offered to buy bottles but they insisted they were at full capacity even though they let in a large group of guys immediately after rejecting us. Wi was extremely disappointed with the disorganized staff and did not appreciate the inconsistent explanations from the bouncers. I won't be going back again.
The WORST night of my life
submitted by Kiran Dhillon for And Company on September 22, 2013
Having to rate this place even one star is absolutely devastating to me. i have just experienced the worst night of my life at "&co". my party (5 girls, 1 guy) arrived at 11:40pm, dressed to the nines, and the blonde bouncer at the front had repeatedly informed us that the venue was at capacity and we probably would not be let in. "should we just go to west50?" i asked him. "is it just the two of you?" he responded. i told him there were six of us, and he told us we were welcome to wait in line but they wouldn't be letting anyone in. (although he would have let in "just the two of you"). We waited in line anyway, and no more than three minutes later, we were let into an empty-ish club for $20 cover. being lied to for no apparent reason is strike one. trying to go through the same bathroom entrance we witnessed countless other people going through, only to be told that we could not go that way is strike two. &co employees needs to learn to treat their patrons with respect (while they still have patrons). Strike three took place when one of the servers bumped into my friend (more or less a body check) and repeatedly threatened me to have her kicked out. Why? Because you didn't pay attention to where you're going? A security guard came up to us right after to defend his server after she threatened us. i told him that she was extremely rude and he proceeded to be extremely degrading. I will never ever return to this place and i do not recommend it to anyone. There are absolutely no redeeming factors to &co. The cover is unreasonable, the music sounds like a 2005 youtube "rap" playlist, the decor is pedestrian at best and the staff are absolute horrific human beings.

Please please please note that you could pay the same cover to go to amazing clubs like union, muzik, or brassai in toronto and have a 1000 times better experience. Saturday nights are tooooo precious to waste on a place like this.
Nothing special
submitted by Emily T for And Company on April 3, 2013
I've come here a couple of times on Wednesdays and Saturdays. They're ok on Wednesdays, definitely not Saturdays, way too crowded and overhyped. It's an ok place if you want a couple of drinks, not to dance, which sucks if you are actually going for the salsa on Wednesdays. The place is way too crowded every time I go. Crowd's ok, mostly early 20s. Overall, too pricey, I tried getting in once on a weekend, it was after 1 and they wanted to charge me 20 for cover. No thanks.
NO CLASS!!!!
submitted by AL for And Company on February 21, 2013
I CAME TO THIS CLUB ON THE GRAND OPENING
IT WAS A CLASSY AND POSH CLUB, I AM A 34 YEAR OLD DESIGNER. I THOUGHT I WOULD BRING MY BUDDY. OH MY WHAT HAPPENED? WHAT HAPPENED INSIDE? PUSHING, SHOVING, A FIGHT BROKE LOOSE INSIDE OF THE DANCE FLOOR. BOTTLES CRASHING NO BOUNCER TO BE FOUND, I THOUGHT GOING TO A 25 + WOULD BE BETTER IT'S NOT !!! YOU ARE BETTER OFF GOING TO A 19 + WITH YOUNG PEOPLE. I CANNOT BLAME THE CLUB IT'S THE TYPE OF PEOPLE THEY ATTRACT. PEOPLE THAT WANT TO HAVE CLASS, COME TO & CO. TO GET IT BUT THEY CANNOT BEHAVE THEMSELVES LIKE HUMAN BEINGS AND TREAT PEOPLE WITH RESPECT. THAN IS NOT CLASS PEOPLE .
Great Night
submitted by MK for And Company on February 20, 2013
Had an awesome friday night- Definitely going there again
Amazing Wednesday night party!
submitted by Carlos for And Company on February 3, 2013
We have an amazing Latin Wednesday night party with a top 40, house & hip hop room upstairs/patio. $4 Coronas all night, ladies free all night & free dance lessons starting at 9pm! Arrive early, it gets busy very early in the night! Strict dress code in effect; Dress shoes and Dress shirt with no writing or graphics.
NEVER AGAIN
submitted by Nancy Scagnetti for And Company on January 3, 2013
Went there on NYE day to celebrate. WORST DECISION OF MY LIFE!

Never again will i go to this place.
there were fights breaking out everywhere and no security was around to stop it. The staff were extremely rude, the venue is super small with no air. And to top it all off while i was on the dance floor a chick reached into my purse and stole my wallet that had 80 dollars in it and my coat check ticket that she later used to steal my jacket too! I spoke to the manager about it and he was totally rude and unhelpful!! F**KING WORST NIGHT OF MY LIFE!

NEVER AGAIN & Co. NEVER!
N
Load More Reviews