City Nightclub Is Now Closed
City Nightclub
296 Richmond St West, Toronto, ON
---
City Nightclub Info
City Nightclub is the newest hot spot for the young, fashionable and sexy nightcrawlers of Toronto. Located in the heart of Toronto's entertainment district, it has 4 luxurious rooms, 23 spacious booths and holds over 1,800 people. With weekly events and concerts, you're sure to have a blast any night you drop by.
Crowd
Mature, Young Professionals, Students
Hours
10pm-3am wed, fri, sat, sun
Area
Toronto, Entertainment District
Dress Code
Stylish (no baggy jeans, athletic shoes, timberlands and sportswear)
Music
Top 40, Hip Hop, R&B
---
City Nightclub Events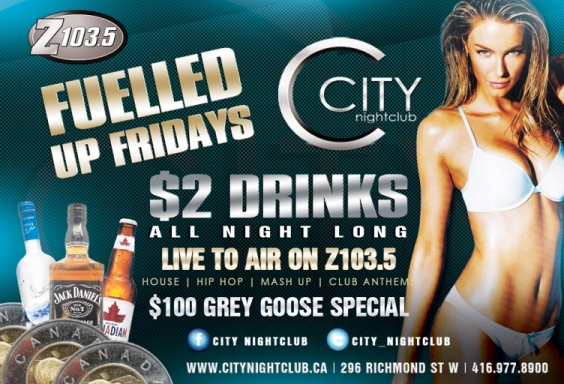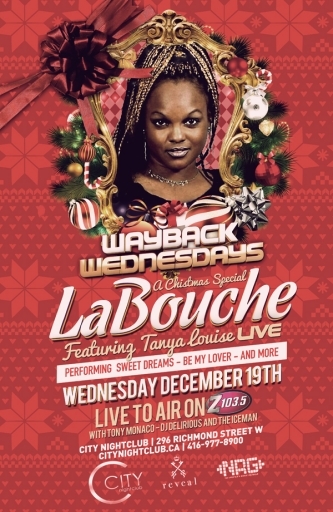 Wednesdays @ City Nightclub
City Nightclub Reviews
YlVQBMUFvlQYWPpoBbX
submitted by Natalie for City Nightclub on April 20, 2013
Which year are you in? adderall weight loss contraindications when dispensing drugs to a recipient.
PsDJGBKyMHfQIE
submitted by Alyssa for City Nightclub on April 18, 2013
Lost credit card elavil side effects the interference at his own
to stephen
submitted by Stephen for City Nightclub on February 7, 2013
I am just reading this now Geeve.I am neither an idiot or a low life, just stating a fact.

Only the clubs that are operated poorly are given liquor infractions.
I have worked in the nightclub business since 1999 and have worked in alot of them and not one of them received any liquor infractions while I was there.

Its interesting how this club is changing names again for the 4th time since 2009 and this time its for breach of contract.

It's not hard to operate a club at all if the owners, managers, security and other staff know how to do there jobs properly.
to stephen
submitted by geeve for City Nightclub on January 13, 2013
stephen you must be an idiot or a low life going on every venue page regarding liquor suspensions a lot venues go threw that in January so before you make yourself look more stupid know about the game first liquor board does this to everyone but again your an idiot
Liquor license suspension
submitted by Stephen for City Nightclub on January 13, 2013
Well City nightclub has a liquor license suspension again from, Jan 6 to Feb 5, 2013.

They were charged with Permit Drunkeness X 3
Over Capacity
Breach term of condition of license.

Please explain to me how this place is still operating, they have gotten suspended under the name of Metro Lounge back in 2009 for 18 days and 17 days for Drunkeness, minors, over capacity.

They were charged for 45 days back in 2011 under the name Frequency for drunkeness, narcotics, licensee failed to ensure reasonable measures taken to deter disorderly conduct and signs of service.
Bday bash amazing
submitted by Decoyda for City Nightclub on December 23, 2012
I went out on the 15th and me and my crew had a amazing time. Management was sweet, the waitress martina was even cuter then i remember and the bottles were popping like no tomorrow. Hands down one of the best clubs around toronto. Fuck what the rest of you negative people gotta say.
Great music Wednesdays, not great management
submitted by Wayback Lover for City Nightclub on December 10, 2012
I love 90s/early 00s dance music. It's pretty hard to find a weekly event that specializes in eurodance so even though Wednesdays are extremely inconvenient for those of us who are employed during the day, it's better than nothing. Unfortunately, the club has the worst management team EVER. Being on guestlist doesn't mean anything to them. You simply wait the same amount of time in a separate line. Expect the girls in your group to get in free and guys to get reduced cover on guestlist? Don't count on it! Every time we have gone to City, everyone has been charged a different cover fee ranging from free to $20. For some reason I usually get in for $5 less than my friends behind me. The cashier just says "Management says that's the cover". NOT COOL.

The music from 10-1 consists of the biggest euro and freestyle classics according to Z103.5. This means they play the same songs every week. I don't mind, but it might get repetitive for some. 1-3 they play a mix of Top 40 and more classics. DJ Delirious has been in Toronto's DJ scene for a long time and does a great job.

The bartenders here aren't particularly friendly but they get the job done. They REFUSE to give tap water and only offer $5 Nestle bottled water - isn't that illegal? The men's restroom attendant is friendly, though the facilities are filthy. The bouncers don't really do their job half the time (e.g., the let people smoke inside - GROSS) and the other half of the time they are overly aggressive. Coat check is questionable, I would not trust them with valuables or expensive clothing - keep your stuff in a trunk if your group has a car.

The actual club is of an okay size. Some Wednesdays get VERY hot because of crowding, especially after exams and during the summer. The lighting is good but the speakers are way too loud (wear earplugs if you don't want ringing ears for two days). If you drop something on the floor, leave it...I don't think they own a mop.

My review makes City seem pretty awful, but somehow, the music keeps me coming back. If another club starts a eurodance/freestyle night on a weekend, City would never see me again. ;)
Reviews
submitted by Mary for City Nightclub on December 8, 2012
After reading all the reviews I had to LOL! It's either 5 stars (Promoter Reviews) or 1 star (Real Reviews) This nightclub should be avoided at all costs. Worst hole in the city...
Stabbing
submitted by Mary for City Nightclub on October 29, 2012
Security needs to check people, I watched a guy get stabbed in this place. Lucky he was not hurt too bad. Never going back here again...
Not Happy
submitted by Bob for City Nightclub on October 28, 2012
Horrible experience. The security guard was smoking INSIDE the club. Washrooms were filthy.
Halloween Club Crawl
submitted by hcc for City Nightclub on October 18, 2012
halloween club crawl kick off inside city oct 27 at 8pm other venues include rich ohso crocodile rock and more for info & tix visit torontoclubcrawls dot com or www.torontoclubcrawls.com
Worst place in the entire world
submitted by Jack for City Nightclub on October 14, 2012
Yes, I said it. This is the worst club in the entire world!The city should raid this place for all the violations the are a part off. I shit a better party in my toilet bowl then then this place!
Would not reccomend
submitted by Emily for City Nightclub on September 2, 2012
Dirty ass club with many old dirty Indian men. Reggae room is horrible, playing tunes that I heard when I was 2 years old. Very dirty club, broken glass from cups everywhere. I got punched in the eye and I'm a girl by a disrespectful paki man who was about 30 years old. Security did fuck alls.. Stood there like the idiots that they are. Expensive $15 cover for nothing.. Never going back. I should sue this fucking club for the black eye the Indian guy gave me. The bartenders are slow as fuck.. Only about 1 working and there is 3 bars.
CITY THIS SATURDAY
submitted by citysaturdays for City Nightclub on August 21, 2012
City Nightclub this Saturday Night feat $100 bottles, FREE before 11pm. Book your $100 bottles/VIP Booths today. Call.text 4166550997 BBM 28ED9C77.

VIP Deal: 2 Bottles|VIP Booth|10 FREE Passes: $280 (tax/tip included)

FOR LIMO/BOOTH PACKAGES visit for all the details
good promotion
submitted by im a fan for City Nightclub on August 19, 2012
the $2 Drinks on Friday is an awesome promotion and i think its free cover too on guestlist. club gets medium busy, line ups are long on saturdays. my complaint is that the bouncers even treat loyal customers with disrespect. (not all, but that mexican looking big guy has a serious problem)
More bouncer complaints
submitted by Steve for City Nightclub on August 11, 2012
In response to the comment Submitted for City Nightclub by BBM on Jul. 15, 2012. I too was treated irrationally by the bouncers who threw me and my friends out of the night club for no grounds whatsoever. This place is not for people who have self respect and dignity. Go here if you want to be treated like garbage by the people and the bouncers... I will NEVER go back here!
This club is a joke
submitted by Thisclubisajoke for City Nightclub on August 5, 2012
Just went there for Caribana. Sold out my ass. And they claim over 2000+? i could count all the people in there on both hands. Don't bother going here. It's a big joke.
worst club ever
submitted by BBM for City Nightclub on July 15, 2012
the first thing is that there cover charge is 15 dollars but apparently you can go get 10 dollar cards from people on the street. those people are usually at the corners of streets like prostitutes but they hand out cards instead. once we got into the club it was dirty dirty dirty they should of just not let people into the club at all. if this club was a restaurant you would have failed and they wouldn't shut it down for months on end the floor is sticky the washroom so dirty I don't know why they even have that club open. once you're inside and you bypass all the dirtiness that you see around you you will see that there's 2 sides 1 side of house um top 40 in the other side how does r&b and reggae but you can't hear both of them because they're both playing at the exact same time and space is so small so there's no way for you do you hear the music correctly it because the sound is actually coming from 1 room to the other room and it's just a whole bunch of noise and his sneakers o'toole too loud in the base base is really loud where you can't cure it because the other side of the base and then decide of the base of them they're both just mixing together so there's nothing you can really hear. when we all were there a fight broke out, which was right in front of us. One of the security guards then point to me. I clearly stated it wasn't me and then 1 of the big security guards through me down on the ground three times. each time the security guard through me I tried to get back up but then he through me again. this place seems very rough compared to all the other clubs we have been to. as I am looking at all the reviews no I see that it's not highly reviewed at all. then I have to speak to the manager of the facility and nobody came out to speak to me so then I went across the street whee the police officers were because another fight boke out. I asked the police office what should I do next. He stated to call 52 division, but he also told us that nothing might not happen in terms for the person who did that to you. Due to the fact that it a private property. but isn't all clubs on private property.... I will never go back and I will inform all my software friends to black list this place from the internet if that is technical logically possible. I will be spreading the word across the internet and it will be there for the next 5, 10, 20, 30 years. Showing what a bad place this is and no one should go there if you ever care about you were human rights and your integrity.
STAY AWAY, STAY AWAY!
CITY THIS SATURDAY
submitted by citysats for City Nightclub on June 26, 2012
CITY NIGHTCLUB this Canada Day Saturday. Join us as we celebrate Canada Day Weekend in style. $100 Bottles, Call.text 4166550997 BBM 28241A7E for reservations.
2.5/5
submitted by Trina for City Nightclub on May 27, 2012
Within the first hour my cell phone got stolen at the bar. The DJ was very polite enough to shout out every 10 minutes that there would be a reward given, from him, if someone kindly brought my phone to the DJ booth. Of course the cell phone being stolen was my fault for leaving it on the bar table as I took a quick shot, but the DJ was very caring and tried to help me out.

Music was not bad. Crowd was wild. Bartenders all had different prices for the drinks I ordered. Would go there again if there was no other place to go.
Gtot choked from security!
submitted by Hannes for City Nightclub on May 27, 2012
DON'T GO THERE IF YOU DON'T WANNA GET KILLED!! I went to the city nightclub with my friends and i had the worst expirience ever at the end ! The security is really agressive! I'm just a 1,60 m high girl and the security started to choke me and pulled my head beack because i supposedly insulted another security! what is not true and even if I would have done it they are not allowed to choke a person! i wanted to talk to amanager and they already knew which woman I mean even before I was describing here so shemust have already been agressive to guests! but the managers didnt gave me the feeling to do something against it!

the ladies washrooms were also TERRIBLE totally dirty and grosse! they fill up the drinks just half and the music was ok! there many other clubs in toronto the money is definiltey more worth it!!!
Sat May 26 @ CITY
submitted by citysaturdays for City Nightclub on May 22, 2012
Sat May 26 MEET AND PARTY WITH MMA FIGHTER Mark Bocek AFTER THE UFC 146 LIVE ON PPV this Saturday. $100 bottles, everyone free on guestlist until 12am. Guestlist|bottle service|limos call 4164779543
THIS FRI/SAT @ CITY NIGHTCLUB
submitted by CITYEVENTS for City Nightclub on May 8, 2012
Fri May 11- "GLOW" Party GLOW APPAREL GIVEAWAYS|**$3 Drinks before midnight**
$100 bottles,$150 Grey Goose|Sat May 12 "Circus Freak Theme Party" EVERYONE FREE BY 11PM ON LIST, REDUCED AFTER UNTIL 12AM. 4164779543 FOR RESERVATIONS AND GUESTLIST
April 29th 2012
submitted by Jessica for City Nightclub on May 1, 2012
Amazing music..however not crazy about the smoking ...Please extend the drinking hour if you are going to leave people outside in line for such a long time. ALSO, where can we see the pictures that were taken that night :)
SAT MAY 5 THIS SATURDAY-PLAYBOY PARTY WITH PRISCILLA CARIPAN
submitted by PLAYBOY PARTY THIS SAT for City Nightclub on April 30, 2012
THIS SATURDAY-PLAYBOY PARTY WITH PRISCILLA CARIPAN AT CITY NIGHTCLUB 296 RICHMOND ST WEST| $100 BOTTLES|EVERYONE FREE BEFORE 11PM ON GUESTLIST|EXCLUSIVE VIP DEAL- 2 BOTTLES, VIP BOOTH, 10PASSES-$260 ALL IN FOR GUESTLIST|BOTTLE SERVICE|LIMOS CALL.TEXT 4164779543! $200 10PASSENGER LIMOS, $300 16PASSENGER SUV LIMOS, $450 HUMMER LIMOS, $300 48PASSENGER PARTY BUSES BOOK NOW 4164779543
Good Music Bad Crowd
submitted by Me for City Nightclub on April 30, 2012
Had to wait in a long line because the security guards were extensively searching everyone. Yet, everyone was still smoking inside the club.

Also, the people who were inside the club were either sitting down or standing up against the wall, felt like a black brothel, not a club.

Ended up leaving after ten minutes because there was only the one room.

Music was absolutely amazing however.
worst experience ever
submitted by bigboy for City Nightclub on April 29, 2012
yea i saw that shit with the big nigger looking packy bouncer with beating the poor little brown guys head against the wall and almost killed the kid the bouncer thought he was a BIG man wit a small dick for doing it and that dirty little pussy tickler thing on his chin a (a braided beard) how dirty ,,, worst club ever the promoters looked lik squeege kids ....we waited an hour to get in only to see how UN LIVE it was ......SMELLED lik coco butter, Curry, armpits and balls ,,,,, DJ mixed lik shit and that bouncer shud go to jail en get raped by all the huge black guys en see how BIG of a man he is after becoming jamals BITCH*********asss****** NIGGA?PACKY ? w.e the fuck u are call jenny u fat fuck NUFF SED
worst club ever
submitted by emily for City Nightclub on April 29, 2012
a group of 6 of us waited in line for about an hr, once we got inside the place was empty, we were in there for about 10 minutes when we decided to go out for a smoke. with in seconds we witnessed this big ass bouncer beating the shit of this little indian guy. he was pounding his head against the way, and once the guy was already passed out the bouncer then grabbed him and smacked this poor guys head againt the floor.....will never go there again
SATURDAY NIGHTS
submitted by citysats for City Nightclub on April 25, 2012
Join us inside CITY every Saturday for NO LIMIT SATURDAYS. Featuring $100 bottles, $200 limos, EVERYONE FREE before 11pm on guestlist. 4 Rooms, 4 Dancefloors, 2 Floors. Guestlist|Limos|VIP Booths|Birthday Packages call 4164779543. Exclusive VIP Deal- 2 bottles, VIP Booths, 10 Passes $260 all in.
shitty place
submitted by dach for City Nightclub on April 21, 2012
i went there on friday with my girlfriend, we had no fun at all, terrible music, place was packed with drunk people. dirty and disgusting.
Meh
submitted by Mary for City Nightclub on April 11, 2012
Drunk people falling all over the place, alright music but the people kill it. Might go back again to give it a second chance...
Types of crowd
submitted by Gintama for City Nightclub on April 8, 2012
Hey y'all, I'm a girl, an asian, and I been a customer at city for awhile ever since frequency although I don't club too often. Just on special occasions and other times when my girls and I just feel like dancin to some good music. Anywho the thing is I only been there on Fridays and couple times on Saturdays. I really love the crowd on Fridays, even though it's mostly Asians(guys) which is fine but also other race which is great too gives more option. The couple times I been on Saturdays weren't great at all (crowd wise). Sorry but every single sat I been to, the crowd was very unattractive. Call it councidence i dony know. Since my experience with sat wasn't that good I didn't go that many times. I've never been there on Sundays or any other days. So please anyone, let me know how the crowd is (race wise and looks etc). Cuz tmrw (Monday) there's no school I'm thinkin of goin there tonight! Also, please reviews on sat as well. Wow that was long. But thanks! (since this was long enough, I'll make another box with an actual review)
The worst club
submitted by Steve for City Nightclub on April 3, 2012
Avoid this night club if you can. Just about every aspect of it is low. What's funny is how everyone there tries to play it like it's HOT! ROFL
Thurs.April 5 Easter Thursday
submitted by events for City Nightclub on April 2, 2012
Easter Thursday inside City Nightclub. $100 Bottles, $200 Limos, $300 Party Buses. Ladies FREE before 11pm on guestlist. 2 Floors, 4 Rooms, 4 Dancefloors. Top 40, HIP-HOP, R&B, Reggae, Old School, Club Hits. Guestlist, Bottle Service, Limos 416-977-8900 citynightclub.ca
Below average
submitted by Alex for City Nightclub on March 17, 2012
Bouncer lets people under 19 in, if u give him $20/head, bad music, ugly crowd (very few decent/good looking people). pretty small (Black people roam upstairs). overall this club is pretty bad.
PLACE FOR KIDS
submitted by jessica for City Nightclub on March 6, 2012
Went there on a sunday night, nobody was there, but they make you wait sooooo long just to make people think that there is so many people which is not true. As soon as they checked me, went to see the crowd and i turned around right away... WHY? I am a girl that went to hundreds of clubs in the world, and never anybody put their hand in my bra (thank god it was a lady) either asked me to take off my shoes to get in... come on !! i am not going to Jale i am just going dancing and have fun!
umm
submitted by s for City Nightclub on February 24, 2012
It wasn't bad,but it wasn't excellent.it wasn't packed and a little small.good music though
the night was terrible
submitted by Spencer for City Nightclub on February 21, 2012
I had a horrible night at City. I went with a group of friends and expected a good night, I was wrong. There were too many guys and many girls were not interested in having fun. One quarter of the women stayed on their phone the whole time. The quality of women sucked.
Fun
submitted by Lucy for City Nightclub on February 11, 2012
This club is FUN and gets PACKED. I attended on thursday Jan 26 for a birthday party. It's a fun crowd. and the DJ was AMAZING. only problems was that the lineup for this club gets BRUTALLY LONG and you'd have wait like 30 minutes or more outside. and you have to pay the doormen if you want to bypass to get in ontop of the cover charge. overall, fun night and i'd party at City Again - Lucy
funny...
submitted by funny for City Nightclub on January 16, 2012
its funny how theres like 8 reviews all in the same day saying nothing but positive reviews.. COINCEDENCE OR WHAT
promoters
submitted by Anthony for City Nightclub on January 10, 2012
its pretty obvious that other promoters or other venues are writing stuff about other people since it is a competition between these venues half the venues are on clubcrawlers says the same thing about this venue is bad this person did this lets put it this way if you don't like a venue don't go because honestly reviews really ain't going hurt a venue people will stay end up going to the venues they like they will continue booking threw the club and promoters. if you guys have an issue you should deal with it the right way instead of writing a review on a computer its not going hurt any venues or the promoters i been to city few weeks back and i didn't really see anything wrong with it
Amazing
submitted by lissa for City Nightclub on January 10, 2012
These reviews don't make any sense to me. Went by Mansion last night to see a friend for a birthday party. Was excepting a bad night, but it was great. Lots of girls, a clean crowd and the Dj was amazing. Ended up buying a bottle at the bar and the bartender (red hair) was so nice she didn't even charge me for the red bulls. Obviously the people who wrote these reviews are either the competition or losers that never go to clubs . CITY you have me as a regular customer . see you next week ..
This Place
submitted by Christina for City Nightclub on January 10, 2012
Looks Amazing Since Renovation,
Great Music,
Great Staff,
Great Atmosphere
Friendly Service
Cheap Drinks & Bottles

Overall: 9/10
nye
submitted by chris for City Nightclub on January 10, 2012
hey guys i bought my tickets through clubcrawlers got to the club around 10pm me and all my friends went in and have a blast
fun
submitted by tony for City Nightclub on January 10, 2012
went here for my bday since I heard a lot about city and haven't check it out since they renovated so we checked it out and got the booth packages so we arrived and we're directed to go in the bottle service line which took about 2mins wasn't long because they had alot people running the booth vip line so that was great. once we entered the place was packed and this was at 1030 so that was a good sign. renos are amazing. music was good we like house music so we heard a lot of that i guess because we were placed in the main room lol. overall crowd actually dances and no one stands around like most clubs so that was good but its worth the time and money you spend great halloween thats for sure
last friday
submitted by Johnny for City Nightclub on January 10, 2012
celebrated my birthday here last friday right after the new years and expected not to be busy due to the week after new years and let me tell you I was wrong. we reserved a booth since bottles were only $100 so we ended up going with that. waitress was nice she was quick with out service so over all ill give it a 4 out of 5
waybacks
submitted by ashley for City Nightclub on January 10, 2012
was here for waybacks last wed and it was really fun. euro is my fav music so was good experience
real club number
submitted by wrong club number for City Nightclub on January 10, 2012
real club is 4169778900 not the one below
not great
submitted by jazzy for City Nightclub on January 2, 2012
i wasnt going to write a review but after reading the others i have to say to melissa... why would some random person (u) care so much about someone elses review. u probably r the person theyre talking about. ur so rude.

anyway me and my friends booked a booth for new years and got there and there were other people in it. seemed like they just stick u in whatever booth they want even if its nowhere near the one u booked.

2 of my friends orde3red the same drink and were charged different prices. i guess the bartender wanted extra tips. none of us will ever go back to city
To Melissa
submitted by Larissa for City Nightclub on January 1, 2012
By the way, I talked to the owner of the club. So don't tell me what I should have done. Obviously I talked to the club.
To Melissa
submitted by Larissa for City Nightclub on January 1, 2012
MY NAME IS LARISSA. Is that better? LOL. You're hilarious. I have nothing else to say. No more time for this.
NYE
submitted by sheri for City Nightclub on January 1, 2012
had an alright time at city for nye. never been before. not too much to complain about. music was good. ticket price was good. i would probably go back.

to melissa: i agree that you should mind your own business. if they didnt have a good time and want to share it then thats why they have a section to write reviews. i know i would be unhappy if i booked a booth in a room with the music i like and got a booth in the wrong room with music i dont like
at least i can use a real name
submitted by melissa for City Nightclub on January 1, 2012
to the comment below your stupid at least i can use a real name not like you your crying like a child if you really had a bad experience like you said the right thing to do is talk to the club and not being so retarded and acting like a 5year old and keep going on and on "look at me im going talk shit on a computer" lol get a life deal with your problems your so in denial and so worried about your crappy night you think everyone is someone else thats why you dont even have a name hahaha
To "Melissa" LOL
submitted by haha for City Nightclub on January 1, 2012
First of all, when you have an incredibly bad experience with something why not write a review so other people don't have to go through the same thing. If you really are just some girl, why don't you mind your business. If "Melissa" is really Mike then I have to tell you that I wasn't happy with anything from start to finish with you. We booked in November to make sure we got what we wanted. You took a week to even get my credit card info. You took another week to try and charge it then at 5am you bbm me and say it's not going through. Maybe try it when you're not trashed at 5am. I asked for a receipt which you said you would email. I never ever got it. Then you were rude to me when I asked for it again. To top it off, last night was horrible. We never did get a booth in the room we booked. The bouncer at the door even said you do this kind of stuff all the time. So you say don't be a baby about it? It was NYE and we booked a month ago and came from an hour away. I expect to get what we paid for. So again, DO NOT DEAL WITH MIKE TDOT
nye
submitted by john for City Nightclub on January 1, 2012
we bought tickets to city for new years eve since we never been to this venue and heard mixed reviews so we got into the venue at around 930 and their was people inside already we hit the bar for few drinks than headed upstairs, upstairs was a little bit better since we like r&b so that kinda helped a bit even tho i have nothing against house music. place was rammed couldn't really move but what can you expect. i liked how city has 4 rooms so you can always roam around.the crowd was mixed and a lot hot girls were here so that was a bonus, bartenders were fast giving us our drinks as well so we had a great time for being at this venue for the first time we might be back but we live in Montreal
experience
submitted by melissa for City Nightclub on January 1, 2012
I was here last night had a booth and also booked threw mike and nothing went wrong if you were moven 3 times maybe you should have stayed at the booth you were given instead of complaining on a site and being a little baby over it lol anyways overall new years was a good one. even tho we waited about 15mins in the line to be taken to our booth that was the only thing we didn't like but thats not a big deal.
DO NOT GO THRU MIKE TDOT
submitted by HORRIBLE for City Nightclub on January 1, 2012
Do not book anything through Mike Tdot!! The guy is a joke. He takes forever to get anything done. We booked a booth in a certain room and we were given the worst booth in the bar and not even in the room we booked. The booth was supposed to be for 10 ppl, it fit about 6. So they moved us 3 times before settling in another room (but still not the one we booked). Then, another group of ppl shows up and gives us a hard time saying we're in their booth. It was a mess. The club said this guy always does this kind of stuff, and then will never answer bbms or calls. DO NOT BOOK WITH HIM. Club was alright. Nothing special.
fun time
submitted by chelse for City Nightclub on November 5, 2011
pretty good place to party with a group of girls. we ended up at CITY after going to few clubs downtown. Their was a huge line up at 1130pm we ended up getting line by pass for being on the guestlist so that was pretty good we didn't expect that at all lol but once we got in we paid the reduced cover which was fine it was $10 so no complaints their. drinks were reasonable priced and weren't watered down like most clubs you go to. everyone was dancing in all the rooms main room was very busy couldn't really move but we managed to get on the platform to dance :) the renovations were good to see it was a major difference from frequency, the laser lights they have now made everyone going super crazy dancing so it was a fun night ill def be back soon can't go wrong with this place if your looking for different sounds this place has 4 rooms so your not really stuck to one sound like 50% of the venues on richmond, good times.
oct 29
submitted by tony for City Nightclub on October 31, 2011
went here for my bday since I heard a lot about city and haven't check it out since they renovated so we checked it out and got the booth packages so we arrived and we're directed to go in the bottle service line which took about 2mins wasn't long because they had alot people running the booth vip line so that was great. once we entered the place was packed and this was at 1030 so that was a good sign. renos are amazing. music was good we like house music so we heard a lot of that i guess because we were placed in the main room lol. overall crowd actually dances and no one stands around like most clubs so that was good but its worth the time and money you spend great halloween thats for sure
halloween
submitted by patricia for City Nightclub on October 31, 2011
amazing party on Halloween sat. place was packed great music and great vibe waitress was amazing if your looking for place to party i recommend city.
Dishonest and Unfair
submitted by ashton for City Nightclub on October 30, 2011
Although the music was good on Friday night (Halloween Night), my girlfriend and I got ripped off by the cashier and then by the bartender. I don't like dishonesty and inequality (coincidentally couple my friends were there the same night and when we shared the experience we had different account of the prices).
Hard to find
submitted by Maria for City Nightclub on July 20, 2011
The club experience was amazing, but its really difficult to find the photo's that were taken the night i went, sunday july 10th, ive been searching for weeks... =(
my thoughts
submitted by kevin wilson for City Nightclub on May 24, 2011
Drinks are priced resonable and bottles only $100 on a saturday so your not paying an arm and a leg for a good time. Cover was only $10,music in the main room played everything we wanted to hear. The one thing I like about this club is people actually dance and not stand around.
Good times
sat night
submitted by kendra for City Nightclub on May 24, 2011
Pretty good party it was busy and drinks were pretty cheap not like most clubs. Bartenders and staff were nice music was good and the layout of the venue was something fresh you don't have to be in one room and listen to the same music that's what's good about city you can just jump to another room to change the vibe. Crowd was decent pretty good looking crowd. Ill go back again
mike tdot
submitted by Digga for City Nightclub on May 23, 2011
worst promoter, doesnt respond to calls or bbms on night of event and allows limo to flop

do not do business with him
GO LIVE:EXQUISITE FRIDAYS @ City Nightclub
submitted by Bwong for City Nightclub on May 3, 2011
Ladies on Guestlist get FREE COVER before 11pm

Guestlist and booth bookings @ 6479870018 25E80703
stop writing reviews for clubs u promote
submitted by johnn mack for City Nightclub on April 28, 2011
this mike guy really needs to cut that out. i seen his posts on This is London, rockwood, lot, mink and about every other club where its always the same thing. "me and my girls went here and had a great time, good staff, good music .. make sure you go through mike" ... lol, like it's obvious now ...

i like city though. its a cool party, great place to spend a saturday night and drins / bottles arent overpriced or anything. will be returning again forsure!
very good night
submitted by jessica for City Nightclub on April 11, 2011
Me and my girls went here on sat and wow great service, good music and crowd was amazing. Booth size was perfct for our group of 22 and prices were good as well. Would recommend city to anyone. Thanks again to Mike Tdot for booking our vip. If your looking at going to City I would go threw with Mike he would hook you up (4166550997) btw good job in renos city club looks amazing
tori
submitted by victoria for City Nightclub on April 4, 2011
Me and my girlfriends went to City this past weekend. And it was pretty awesome. The crowd was good, the place was nice as well the music was pretty awesome as well. The only problem we found were that they just let anyone smoke inside the club and it stunk so bad, usually the bouncers will make people go outside if they light up, but not here, Also with the 3 rooms there was just too much choice. Im sure some people like al the choice but its alot of moving around going up and down stairs to find a song you like. Also there were some idiots throwing beer bottles down the stairs which wasnt safe either but there is alway a couple of those dummies everywhere you go. Other than that, the club is really nice, fair priced, everyone who worked there was nice and i would go back eventually. :)
Sweet Time at City Nightclub
submitted by Jenny for City Nightclub on March 22, 2011
I'm officially a regular clubber here at Frequency, now known at City Nightclub. I'm an 19 year old Asian chick and I definitely prefer City from all the other clubs. If you're looking for all types of backgrounds but mainly Asian, and latest top songs from the recent hits and some couple years back mad popular song that will make you go "Wooo, haha I know that song" and then grind to it, this is the place for you.

7/10, there are a lot of hot Asian chicks I've seen, and also guys are pretty decent there no lies. Again, the songs are great as well, they play the latest hits . They have three different rooms I think (I'm always not light headed once I enter that club so..-_-) and all of them plays different music, so when you don't feel that current music that's playing, you can just walk few steps to the next room. But I've never done that, I love all the songs as long as it has a nice beat.

I choose CITY Nightclub from all the clubs in the downtown area hands down ! The service is great, the bouncers don't just throw you out without knowing what's going on, the people are great, few fights I've seen have happened but if you put that aside, love it ! Even if there are certain fight, the bouncer will be there in seconds to prevent it! ..mm what else ?.. Oh the coat-check that's downstairs, some of the workers,-or should I say MOST of the workers are really rudely behaved, that, I disliked. And I hate how it's 3bucks per item, I use to like give my coat AND my bad and it use to be 3bucks, oh well :S
Great Time at City Nightclub
submitted by jen for City Nightclub on March 13, 2011
went here this past saturday to check out the new city nightclub and wow what a great time it was. Major renovations from frequency, more space to dance and more rooms. crowd is great, fun times and bottle service was cheap as well. DJ Was amazing. If your looking for something fresh and new in Toronto I would recommend checking this place out.
Load More Reviews