SHINE. Friday Afterwork Patio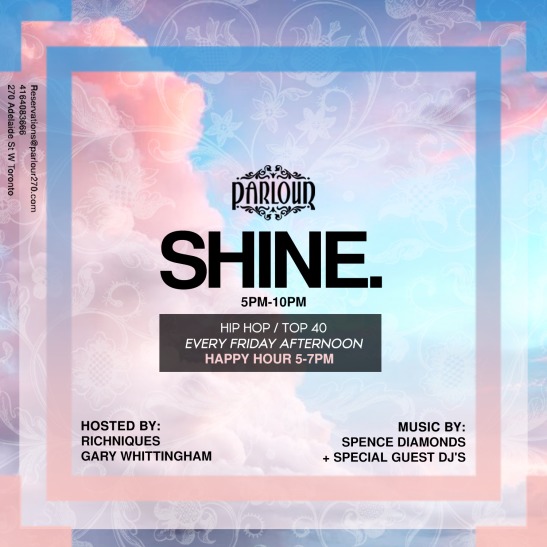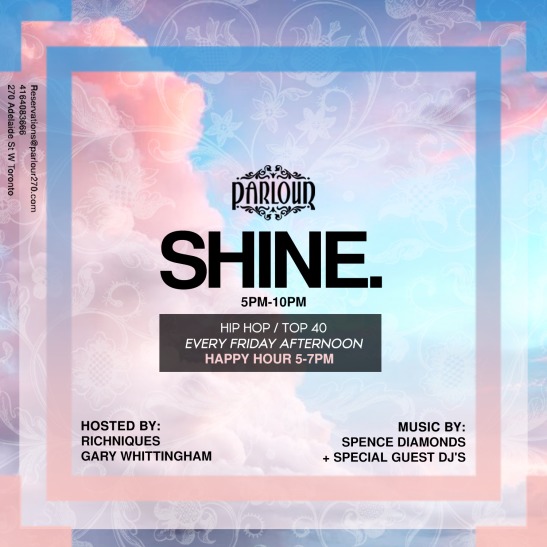 Featured on Club
crawlers

Food Music Pool Access on Toronto's Largest Poolside Patio

Get your daytime fix at Cabana Pool Bar Patio

Lavelle - Great for a Date Night. Great Snap for your IG.

The Baro is where traditional latin culture and cuisine is reimagined with distinct modern flair and becomes something entirely its own.

The Porche Rooftop Patio with an amazing view of the CN Tower!

EFS in the Heart of Toronto's Entertainment District. Enjoy food and drinks at this top notch establishment.
GUESTLIST BENEFITS: No Cover on guest list
---
Parlour Bottle Service
PRICE: $0
What's Included: Bottles | Table | Mix | Tax and Tip Not Included
Reserve Booth
SHINE. Friday Afterwork Patio @ PARLOUR Lounge
SHINE. Patio
Friday After Work Outdoor Patio

Parlour
270 Adelaide Street West (@ John)

Dance | Lounge | Drink | Chill
Starts @ 5pm
Happy Hour 5-7pm

Hosted by:
Richniques
Gary Whittingham

Music By:
SPENCE DIAMONDS
+ Special guest DJ's


Free Admission
Rain Or Shine
Indoor & outdoor

Address

PARLOUR Lounge, 270 Adelaide Street W., Toronto, ON, M5H 1X6

Area

Toronto, Entertainment District

Crowd

Mature, Young Professionals

Music

Hip Hop, Reggae, House, Retro 90's

Layout

2 Floor Lounge with 100 capacity

DJ's

Spence Diamonds, Richniques
PARLOUR Lounge Info
Parlour Lounge is a mecca for socialites seeking habitual enlightenment. Embracing style, music, art and fashion in an impressive heritage building, Parlour Lounge is a destination for those seeking refuge from the main. Boasting an extravagant vintage design, Parlour Lounge teases the senses with a lavish and mature wine and cocktail menu.

Layout

2 Floor Lounge with 100 capacity