Shaquille O'Neal and DJ Diesel at Cabana Pool Bar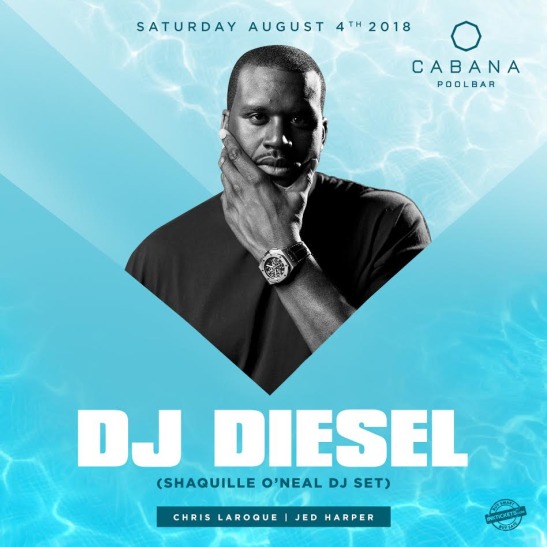 Ticket Status: Out of Stock
Tickets for this can no longer be purchased online.
Please register to be notified by email if tickets go on sale.
Shaquille O'Neal and DJ Diesel at Cabana Pool Bar @ Cabana Pool Bar
Join us at Cabana Pool Bar on August 4th 2018 with Shaquille O'Neal and DJ Diesel in Toronto!

Address

Cabana Pool Bar, 11 Polson Street, Toronto, ON

Hours

Doors open at 1:00pm

Dates

Saturday August 4th, 2018

Crowd

Mature, Young Professionals
Cabana Pool Bar Info
It could be in a swish hotel on Miami's South Beach or wrapped around a casino on the Las Vegas Strip, but this Cabana Pool Bar combines the very best of the world's most popular playgrounds into an all-Canadian-by-the-lakeside wonderland with enough space to accommodate 2,500 sun-worshippers and seating for 850. Add in 12 elevated and private cabanas, another 42 oversized deluxe chaise lounges and an alluring 50,000 sq. foot enclosed patio area and this latest incarnation from lifestyle guru Charles Khabouth is "Tojito"-ready for Torontonians and visitors to the city.

With guest deejays and musical performances scheduled every weekend during the summer, Saturday's music will feature mash-up, R&B and hip-hop, while Sunday's will showcase electronic.